[
Home
] [
Products
] [
Registry
] [
Leather Care
] [
Focus Groups
] [
About Alligator
] [
Contact Us
] [
News
]
Share
Warranty Information
Money-Back Satisfaction Guarantee
If you are not 100% satisfied with your purchase, during the first two calendar weeks after purchase you may return your David St.Moritz handbag or accessory in its original condition, with all straps and tags for a full refund. No refund will be issued for items that have been used, worn, damaged or cannot be resold.
3 Year Limited Warranty
David St.Moritz warrants its products against defects in materials and workmanship for a period of three (3) years from the date of original retail purchase. If a defect exists, at our option we will either (1) repair the product at no charge, using new or refurbished replacement parts, (2) exchange the product with a product that is at least equivalent to the returned product in form and function, or (3) refund the purchase price of the product. A replacement product/part assumes the remaining warranty of the original product or ninety (90) days from the date of replacement or repair, whichever provides longer coverage for you. When a product or part is exchanged, any replacement item becomes your property and the replaced item becomes our property. When a refund is given, your product becomes our property. This warranty is not designed to cover damage, abuse, or ordinary wear. Leather is a natural material that will soften and darken over time. Exposure of cowhide, pigskin, alligator, python, and ostrich hides to water, solvents, oils, heat, and sun may affect them negatively, and this is not covered by this warranty. THIS WARRANTY AND REMEDIES SET FORTH ABOVE ARE EXCLUSIVE AND IN LIEU OF ALL OTHER WARRANTIES, REMEDIES AND CONDITIONS, WHETHER ORAL OR WRITTEN, EXPRESS OR IMPLIED. WE SPECIFICALLY DISCLAIM ANY AND ALL IMPLIED WARRANTIES, INCLUDING, WITHOUT LIMITATION, WARRANTIES OF MERCHANTABILITY AND FITNESS FOR A PARTICULAR PURPOSE.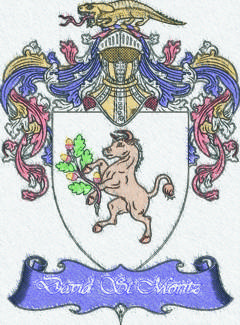 The following are trademarks of David St.Moritz:
Leather Art on your Shoulder
™
Leather Art in your Hand
™
Bag of Trix
™
Alligatrix
™,
Aquatrix
™,
Conquistatrix
™,
Dominatrix
™,
Nitrix
™,
Serpentrix
™, and
Don't Choker
™
Server7